Why Volunteer? What are the Benefits?
Get the BEST deals by shopping the Volunteer PreSale BEFORE 100's of Consignors.
Meet a lot of great people- mainly other local moms!
Volunteer your Husband/Father (anyone) and they can work for You!
It's Fun, Easy, and Busy so time passes quickly!
Work Sort/Tear Down Shift
To Get Your Check That DAY!
Most Needed Shifts 
Feb. 18, Sunday 12-5 (Manual Labor Shift- Great for Dad's)
Feb. 19, Tuesday 3-10pm
Feb. 20, Wed. All Day
Feb. 24, Saturday All Day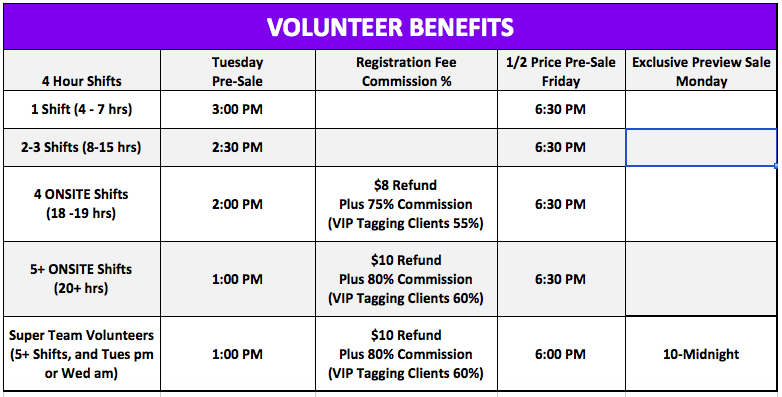 Other Important Reminders
Please arrive on time and stay your entire shift
Wear tennis shoes or similar. Please no flip flops/sandals for YOUR safety.
Please NO children under 10 ONLY 11-18 years IF they're willing and able to help.
If you have any health limitations (including pregnancy), contact us prior to your volunteer time so we can accommodate your needs.
SET-UP or TEAR-DOWN Shifts
Count as 2 Shifts
Our Super Team Volunteers
Super Team Volunteers are volunteers who go above and beyond to make our sale a success. As a Super Team Volunteer, you get great perks and benefits.
Some of the Exciting Benefits Include:
An Exclusive Monday Night Pre-Shopping Experience.

Want to get the absolute best items and be first to shop? Then this is for you!

Enjoy the first choice of Volunteer Shifts.

Get in Early to the Half-Price PreSale on Friday Night

(6pm instead of 6:30)

And Of course you get the same perks as any 5 shift Volunteer:

including 80% of your sales, $0 registration fee,  First to shop on Tuesday Afternoon
Requirements to become a Super Team Volunteer.
Volunteer a total of 5 or more 4-hour shifts (also remember some shifts count as double hours!)

Volunteer either Wednesday Morning or Tuesday Night. (These are our busiest times, and with so many shoppers, we need our best volunteers!)
Volunteer Monday Night from 5- Midnight Is not a requirement to join the Super team, but a perk. You get the chance to sign up for Monday night first. Please note this is during your Exclusive Super Team Volunteer Pre-Shopping Experience. We will also be finishing up drop-off, stuffing grab bags, organizing and of course shopping!
If you would like to become a Super Team Volunteer, please send Kayley an email so she can add you to the list. Then go sign up for the shifts you desire. Just make sure to meet the requirements by signing up for 5 shifts and a Tuesday Night or Wednesday Morning shift.